President's Message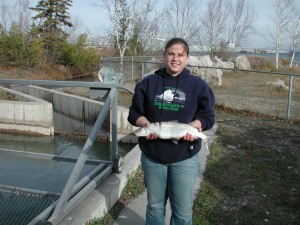 Greetings! The Annual Meeting in Pittsburgh, PA was successful! The meeting was full of great presentations, posters, and social events. The Equal Opportunites Section Annual Luncheon at The Fish Market featured a keynote presentation by Dr. Patricia Clay, a social scientist from NOAA. She gave a very moving presentation of her experience as a professional sciententist. The EOS would like to extend our gratitidue to Dr. Clay for sharing her life story with us. Thank you.
Larry A. Alade EOS will continue our tradition of holding a luncheon for students and professionals. Our new President-Elect Lonnie Gonsalves will be planning the luncheon in Seattle, WA. If you have any comments or suggestions, please contact Lonnie. Detatils of the luncheon will follow.
After moving into the position of EOS President at the Annual Meeting in Pittsburgh, PA I have been eagerly developing my priorities for the Section over the next two years. The focus for the next two years is going to be on students and young professionals. Students are the future of the Society and we will be advocating and providing opportunities for student involvement in this Section and in the Society. We are looking for a Newsletter Editor and would love to involve students or young professionals. If you are interested in volunteering your time, please contact me for more information regarding this, or other opportunities which may be available.
At the upcoming Annual Meeting in Seattle, WA, EOS is working with the Student Subsection of the Education Section to provide a 'student advisement booth.' The details are still being developed, however this will be a booth with professionals from academic, government, and private entities to aid and answer student and young professional's questions, review resumes/CV's and serve as a companion 'event' to the Student Colloquium and other student events which will occur at the meeting. Details to come!
Contact information for all executive committee memebers, webmaster, newsletter editor and committee chairs are located on the this webpage. Feel free to contact any of us with questions, ideas, or things to post on the EOS website. Finally, if you have any comments or suggestions as to how EOS can help to serve you and the Society better, please do not hesitate to contact me. I look forward to serving you in the next two years.
Robin DeBruyne, EOS President