Equal Opportunities Section (EOS) of the American Fisheries Society
EOS works to encourage the exchange of information pertinent to the promotion of employment, education, scholarships, participation, professionalism, and recruitment for all individuals in the fisheries profession. The Section administers the J. Frances Allen Scholarship program, fosters mentoring of under-represented groups via an annual mentoring award and luncheon, and publishes a newsletter.
Goals
To increase the representation and involvement of diverse ethnic/racial groups and females in the American Fisheries Society.
Objectives
Increase professional interaction between research institutions and minority colleges.
Increased attendance of minority and female professionals and students at annual meetings.
Encourage and support the development of fishery research and instructional programs, particularly at predominantly minority (including female) institutions.
Encourage the hiring of more minority and female fisheries professionals nationwide.
Provide students looking for employment with information about summer jobs in fisheries or aquatic science fields.
September 15th, 2020
Diversity and Inclusion Day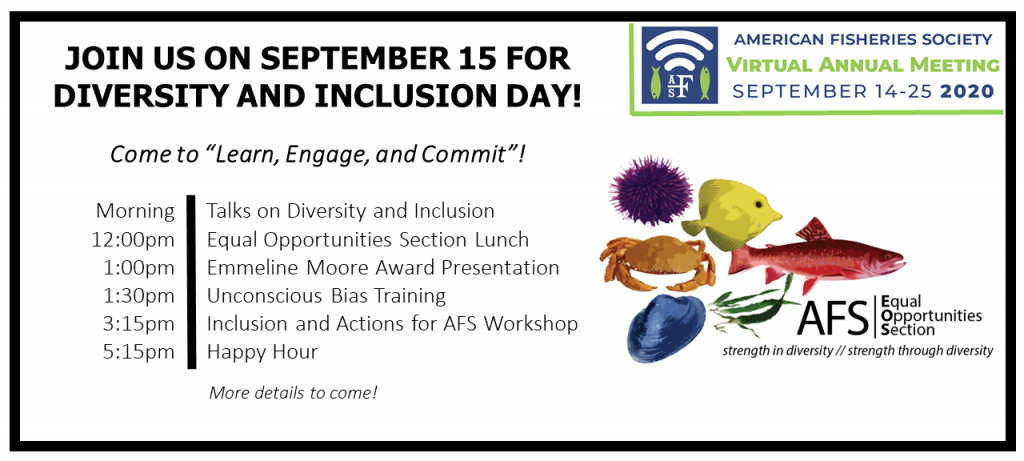 We invite members of AFS and the general public to join the Equal Opportunities Section on September 15th for Diversity and Inclusion Day! We challenge those in the fisheries profession to "Learn, Engage, and Commit" to increasing diversity and inclusion (DI) in our society. Our primary goals for the day to become more literate in DI, normalize DI discussions, and create a list of action steps for AFS to take at multiple organizational levels.
Learn: Watch prerecorded talks on diversity and inclusion, including a plenary by Mamie Parker
Engage: Examine your own biases in a Unconscious Bias Training with facilitator Darlene Floyd (live training – 1:30 pm EDT)
Commit: Build awareness of current gaps for inclusivity within AFS and brainstorm action steps AFS can take to be more diverse and inclusive (live workshop – 3:15 pm EDT)
Our live events begin at 12 pm EDT with our Equal Opportunities Section Lunch, where we will have introductory remarks and honor our student travel award winners. The Emmeline Moore Award will be presented to Dr. Ivan Arismendi at 1 pm EDT, followed by the Unconscious Bias Training and Commit Workshop. The day will end with a Happy Hour, where you can continue the conversation with other attendees or join one of our themed rooms.
Everyone in our society is responsible for making progress on diversity and inclusion. We encourage you and your peers to join us for these important conversations about how we can move the needle forward.
Diversity and Inclusion Day is free to attend – open access details/links will be posted soon!