Equal Opportunities Section Student Travel Award
The AFS Equal Opportunities Section (EOS) leads an effort to increase participation in AFS by graduate and undergraduate students from historically underrepresented groups in the fisheries field (including but not limited to people who identify as women, Black, Indigenous, and People of Color, those of the LGTBQIA2S+ community, and those with disabilities). Due to the potential for continued COVID-19 travel restrictions or concerns, the EOS Executive Committee will offer this travel award under two different scenarios, which are in-person attendance or virtual attendance.
EOS travel awards will be awarded on a competitive basis to assist at least one graduate student (M.S. or Ph.D.) and one undergraduate student with expenses incurred while attending the Annual Meeting and membership dues:
Student AFS membership: $25.00
EOS annual dues: $7.00
State Chapter dues: up to $18.00
Student registration cost for the 2022 meeting: see below
In-Person Attendance:
If in-person attendance is allowed, EOS travel awards not exceeding $500. Funds for an in-person meeting will not be distributed in advance. Award winners must be present at the EOS business meeting (TBD) at the Annual Meeting to receive their award.
Virtual Attendance:
For virtual attendance, EOS travel awards will be approximately $200*.
Please note that registration costs for the Spokane meeting have not been posted yet and the $200* estimate will be adjusted to reflect the student registration cost when it is finalized. In addition to the $200.00 base award, the EOS Executive Committee will award an additional $125 to cover a Continuing Education course/workshop. Awards for virtual attendance will be sent to applicants as money orders before the annual meeting to support the costs of registration and dues.
How to apply:
To apply, students must complete Part I of the online application. Student faculty advisors must complete Part II of the online application. Part I and Part II of the online application must be completed and submitted by May 1, 2022 to be considered.
The EOS encourages applications from students who have not attended AFS meetings in the past. If desired by the student, the EOS Executive Committee will designate a meeting contact to ensure first time attendees always have a familiar face at the Annual Meeting. There are wonderful networking opportunities, technical sessions, continuing education, trade show displays, and career/job/graduate school opportunities at the meeting. We can also assist students with finding additional travel support, if needed. We look forward to hearing from you!
Please complete the online award nomination form below:
2022-EOS-Travel-Application-Form
Questions? Contact: Chair and EOS Treasurer: Kristie Coffman
email: [email protected]
Deadline: May 1, 2022
---
We are pleased to announce our 2021 EOS Meeting Travel Awardees. Congratulations!!
*~*
Hadley I. A. Boehm (She/Her/Hers)
I am a PhD student in the Missouri Cooperative Fish and Wildlife Research Unit at the University of Missouri–Columbia. For my dissertation I am working on a collaborative project with the Missouri Department of Conservation to evaluate the Striped Bass fishery in Bull Shoals Reservoir. I hold a M.S. in Natural Resources from the University of Wisconsin–Stevens Point where I did a cooperative project with Wisconsin DNR, focused on identifying Walleye recruitment bottlenecks in the northern part of the state. Between my graduate degrees I was a fisheries specialist at the Minnesota Department of Natural Resources, then a senior fisheries biologist for the Wisconsin Department of Natural Resources. I realized through my involvement coordinating student activities at annual WIAFS chapter meetings and at the 2018 Midwest Fish and Wildlife Conference, that I really enjoy working with students and young professionals. It made sense to combine my interest in addressing applied questions with teaching for a career, so I returned to graduate school. My ultimate goal is to work at an institution where I can teach and pursue a combination of applied fisheries work with students.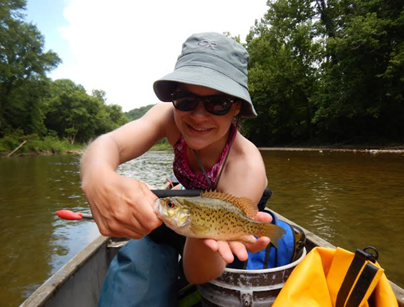 Samara Nehemiah (She/Her/Hers)
Samara Nehemiah is a current Ph.D. student at the Chesapeake Biological Laboratory at the University of Maryland Center for Environmental Science studying Quantitative Fisheries. Her current research focuses on developing statistical models to estimate population abundance of economically and ecologically important fishes in the Chesapeake Bay. Samara completed her M.S. in Fisheries and Aquatic Sciences from the University of Florida in 2020 and completed her B.S. in Environmental Science and Policy from the University of Maryland in 2015. Samara currently serves as Vice President of the Chesapeake Biological Laboratory's chapter of the American Association of University Women and serves as Vice President of the University of Maryland American Fisheries Society student subunit.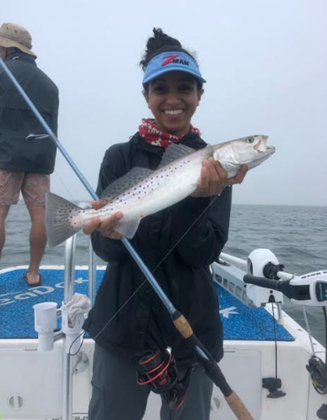 Elsa Gutierrez (She/Her/Hers)
I am a master's student at Louisiana State University in the Department of Oceanography and Coastal Science. My focus is studying the movement ecology and life history of highly migratory fish species in the Gulf of Mexico. I was born in Mexico and was first introduced to marine biology as a sophomore in high school. I attended Texas A&M University – Galveston for my undergraduate degree, where I had the chance to meet high school students interested in marine biology. Since then, I have been an active member of my community speaking science to younger audiences and minorities not represented in the science field. As a Mexican American marine biologist, I strive to increase representation of minorities in science fields and show them see the possibility of all the careers and options they have.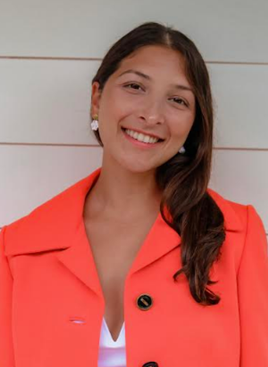 Christina Linkem (She/Her/Hers)
I am a second year MS student at Oregon State University in Dr. Ivan Arismendi's Lab. My thesis is focused on seasonal movement and habitat use of Coastal Cutthroat Trout in headwater streams in the coastal range of Oregon. Prior to becoming a graduate student at OSU, I worked for the USFS as a seasonal field technician for the Aquatic and Riparian Effectiveness Monitoring Program (AREMP). My AFS involvement includes managing the Oregon Chapter's Instagram page (@oregon_afs), acting as one of the Volunteer Coordinators for the 2021 Oregon AFS annual meeting, and co-authoring two Fisheries articles that highlighted contributions of underrepresented groups in the field of fisheries. I enjoy any work in biological research that involves a healthy mix of field work, data analysis, presenting and writing. My hobbies include canoeing, peak hiking, camping, surfing, and travelling.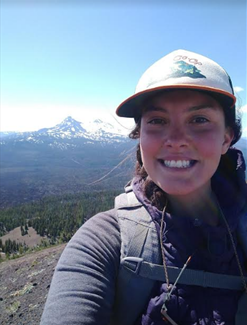 Marsella Munoz (She/Her/Hers)
Undergraduate student at Florida State University majoring in biology. She was one of the AFS Hutton Scholars this past summer. Her goals are to engage in a new field of science, develop a deeper sense of her identity, and create interpersonal skills that will allow her to delve more deeply into fisheries science.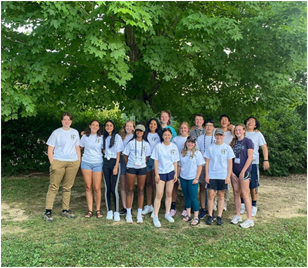 ---
We are pleased to announce our 2020 EOS Virtual Meeting Travel Awardees. Congratulations!
*~*
Kristina Pechacek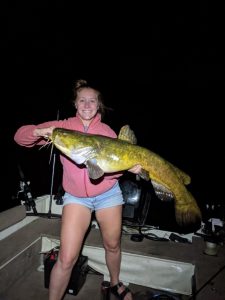 Anna Perruzza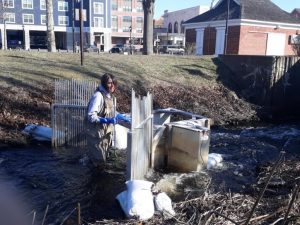 Caroline Troy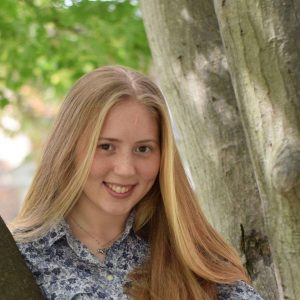 Kaylyn Zipp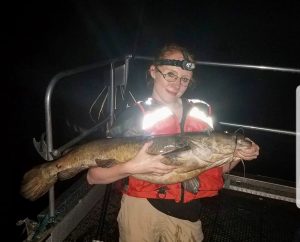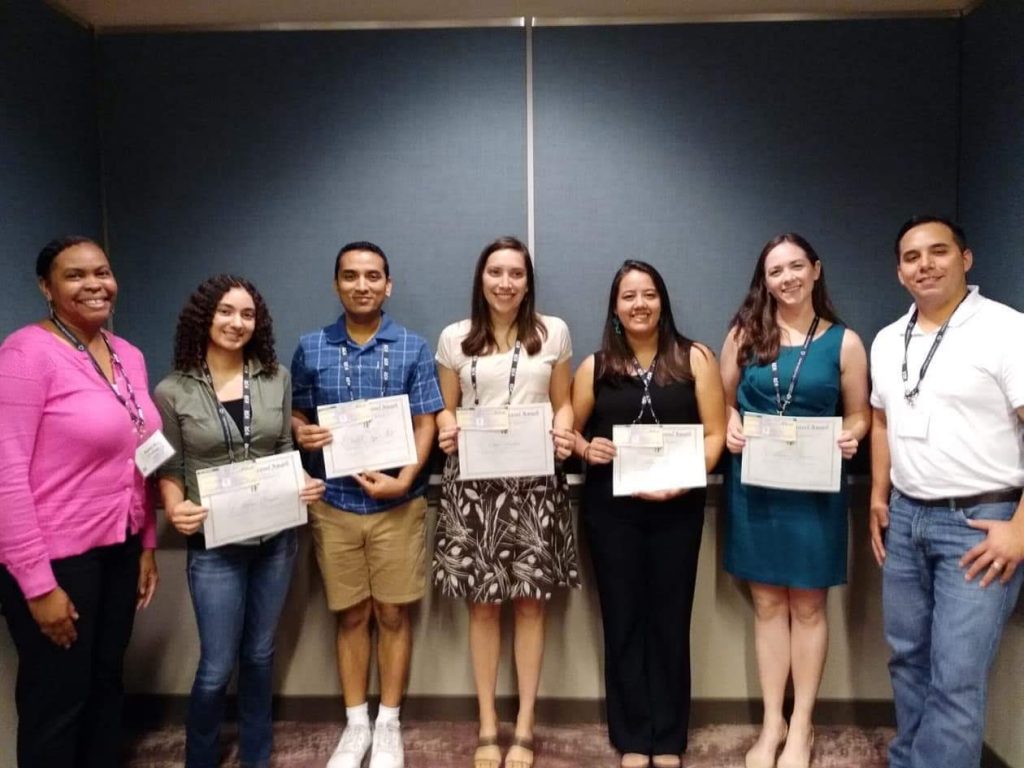 2018 EOS Travel Award Recipients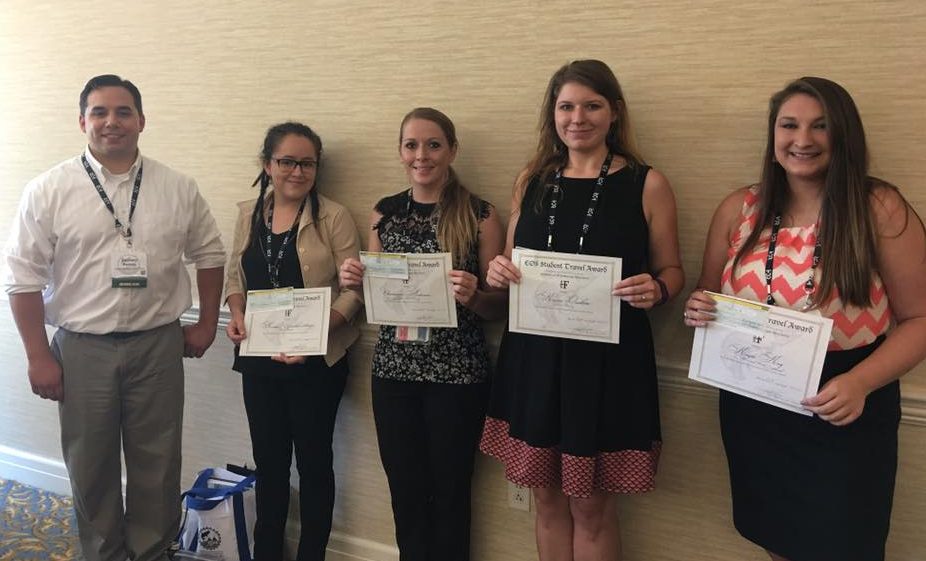 2017 EOS Travel Award Recipients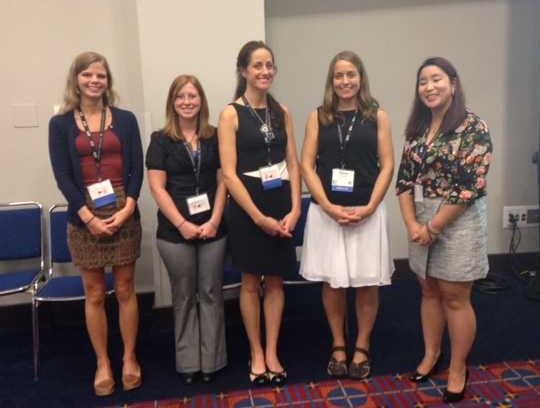 2015 EOS Travel Award Recipients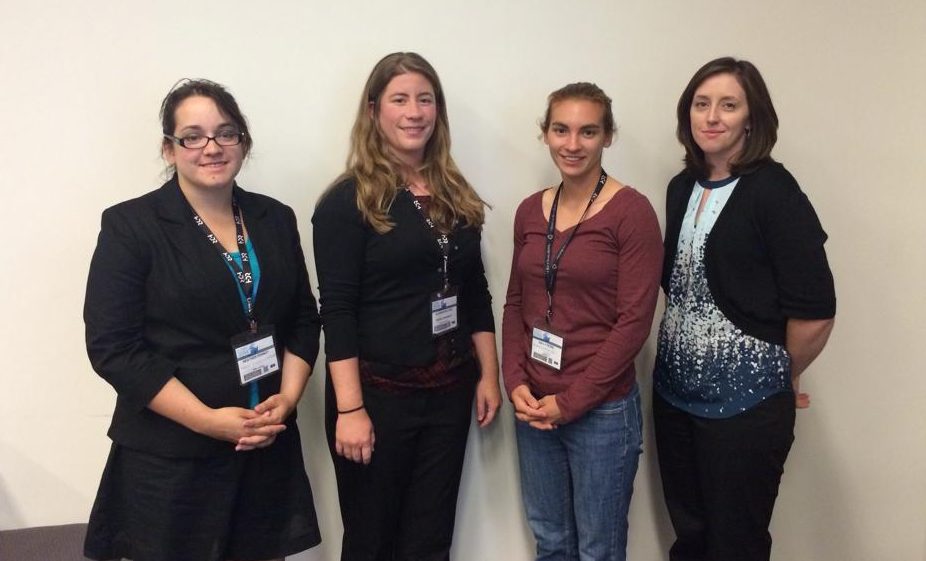 2014 EOS Travel Award Recipients