Equal Opportunities Section (EOS) Student Travel Award
2023 Application Form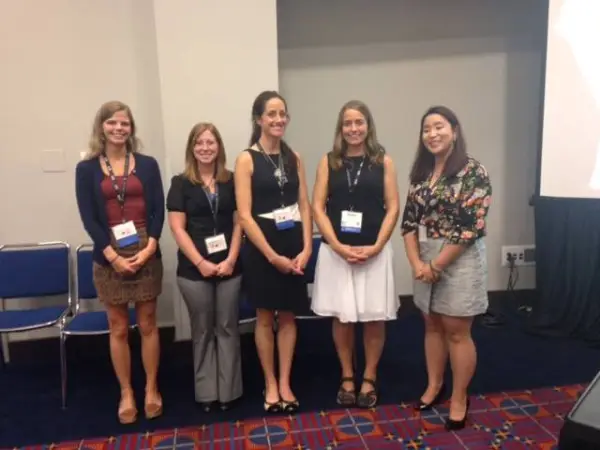 Credit: American Fisheries Society
Please use this online award nomination form to apply for the Equal Opportunities Section (EOS) Travel Award to attend the 2023 Annual Meeting of the American Fisheries Society (AFS) to be held in Grand Rapids, Michigan, from August 20-24, 2023.
Information regarding the EOS can be found at: https://equalopportunity.fisheries.org/
Information regarding the AFS meeting can be found at: https://afsannualmeeting.fisheries.org/
The AFS EOS leads an effort to increase participation in AFS by graduate and undergraduate students from historically underrepresented groups in the fisheries field (including but not limited to people who identify as Black, Indigenous, and people of color (BIPOC), disabled, LGTBQIA2S+, and women).
EOS travel awards will be awarded on a competitive basis to assist at least one graduate student (M.S. or Ph.D.) and one undergraduate student with expenses incurred while attending the Annual Meeting and membership dues.
Student AFS membership: $30.00
EOS annual dues: $7.00
State Chapter dues: up to $18.00
Student registration cost for the 2023 meeting: see below
In-Person Attendance:
For in-person attendance EOS travel awards will not exceed $500 each. Funds for an in-person meeting will not be distributed in advance; however, if this will cause a significant financial burden please reach out to the Chair (see below). Award winners must be present in person at the EOS business meeting (TBD) at the Annual Meeting to receive their award.
Virtual Attendance:
For virtual attendance, EOS travel awards will be approximately $240.  In addition to the $240.00 base award, the EOS Executive Committee will award an additional $125 to cover a Continuing Education course. Awards for virtual attendance will be sent to applicants as money orders before the annual meeting to support the costs of registration and dues.
How to apply:
Please email all application materials to the Chair, listed below:
Chair: Lian Guo
Email: [email protected]
Deadline: May 1, 2023
---
We are pleased to announce our 2022 EOS Meeting Travel Awardees. Congratulations!!
*~*
GRADUATE AWARDEE:
Asha Ajmani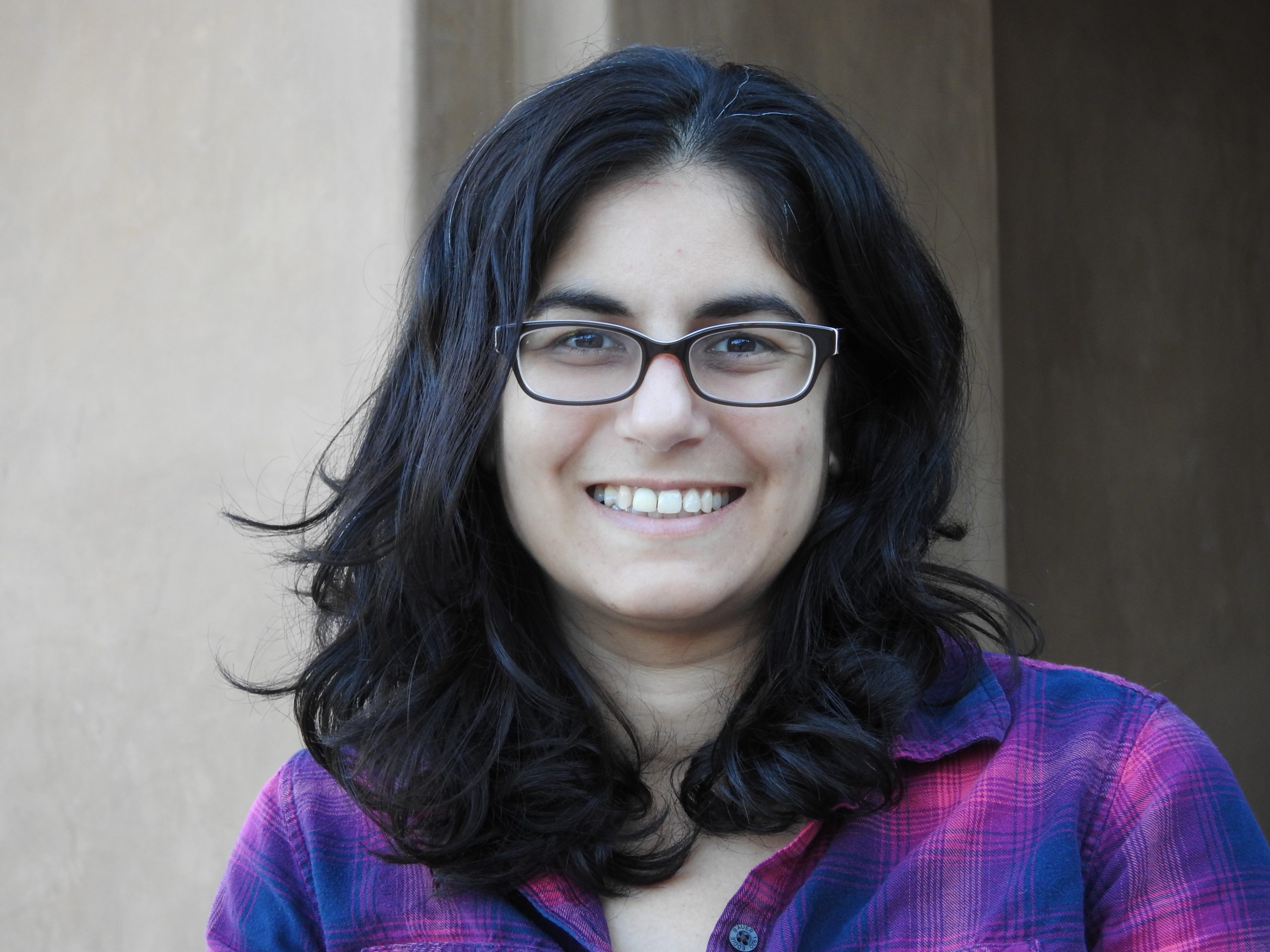 Asha Ajmani is a PhD student in Environmental Conservation at the University of Massachusetts Amherst and a Northeast Climate Adaptation Science Center Fellow, advised by Dr. Michelle Staudinger. She previously worked as the Ecology Program Manager for the Passamaquoddy Tribe at Sipayik, Maine. Asha currently partners with Indigenous communities to protect cultural and subsistence fish resources impacted by climate change through monitoring programs focused on movement and migration, biodiversity, environmental contaminants, and food web dynamics.
UNDERGRADUATE AWARDEE:
Fatomilola Stella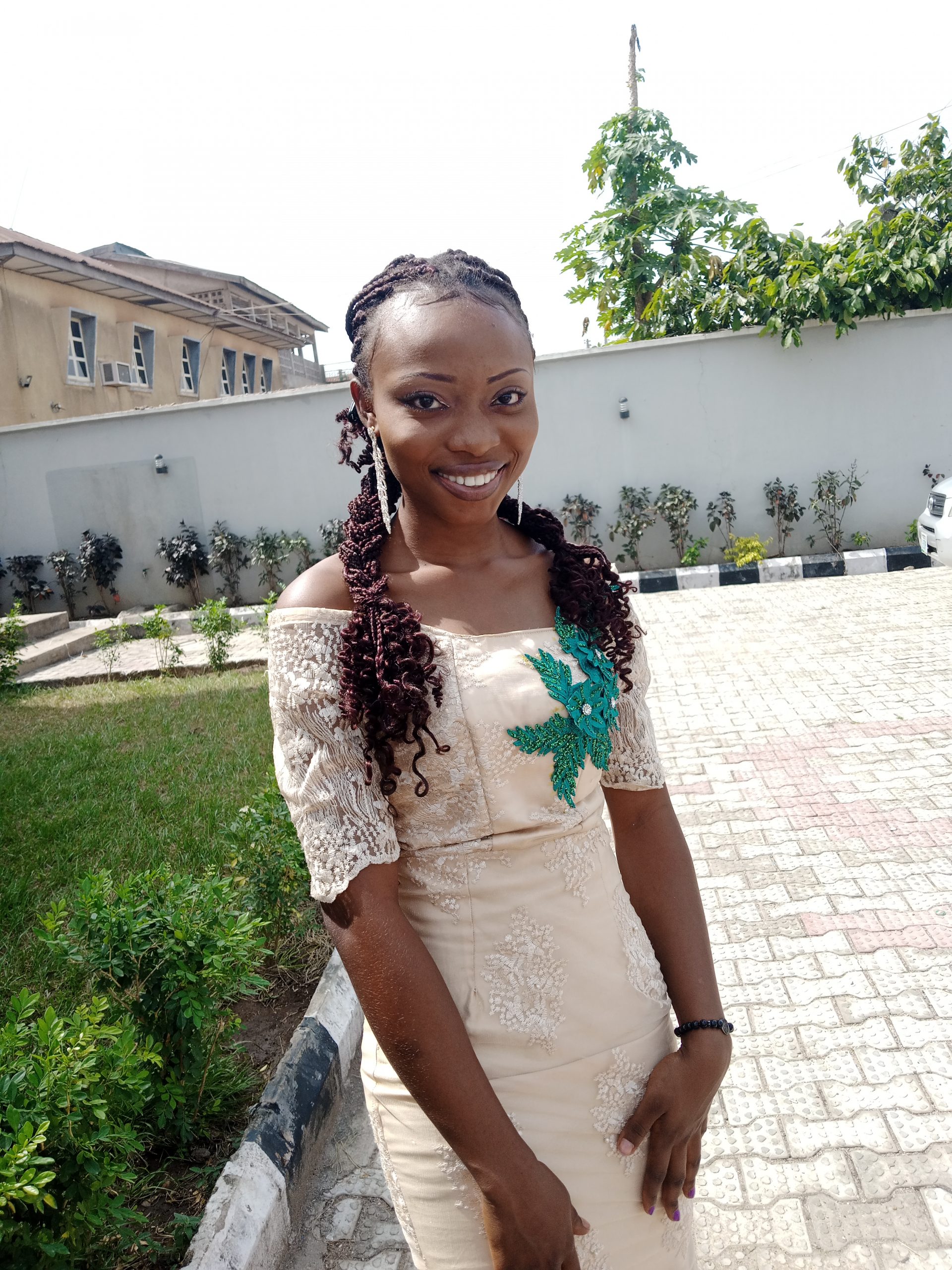 Fatomilola Stella is a student at The Federal University Of Technology, Akure studying Fisheries And Aquaculture Technology where she has the duties of learning extensively, research and community service activities in fisheries and aquatic sciences. She was a Millennium Fellow, who worked on a project that addresses Climate change, under SDG 14 (life below water) with the goal to enlighten the society to understand the climate system and know how to apply that knowledge in their careers and also in their engagements in order to increase fish productivity and improve the agricultural sector in Nigeria. She is passionate about the drive to conserve the ocean's wealth and resources and also the enhancement in production of fishery resources.
HONORABLE MENTION GRADUATE STUDENT:
Katrina Zarrella Smith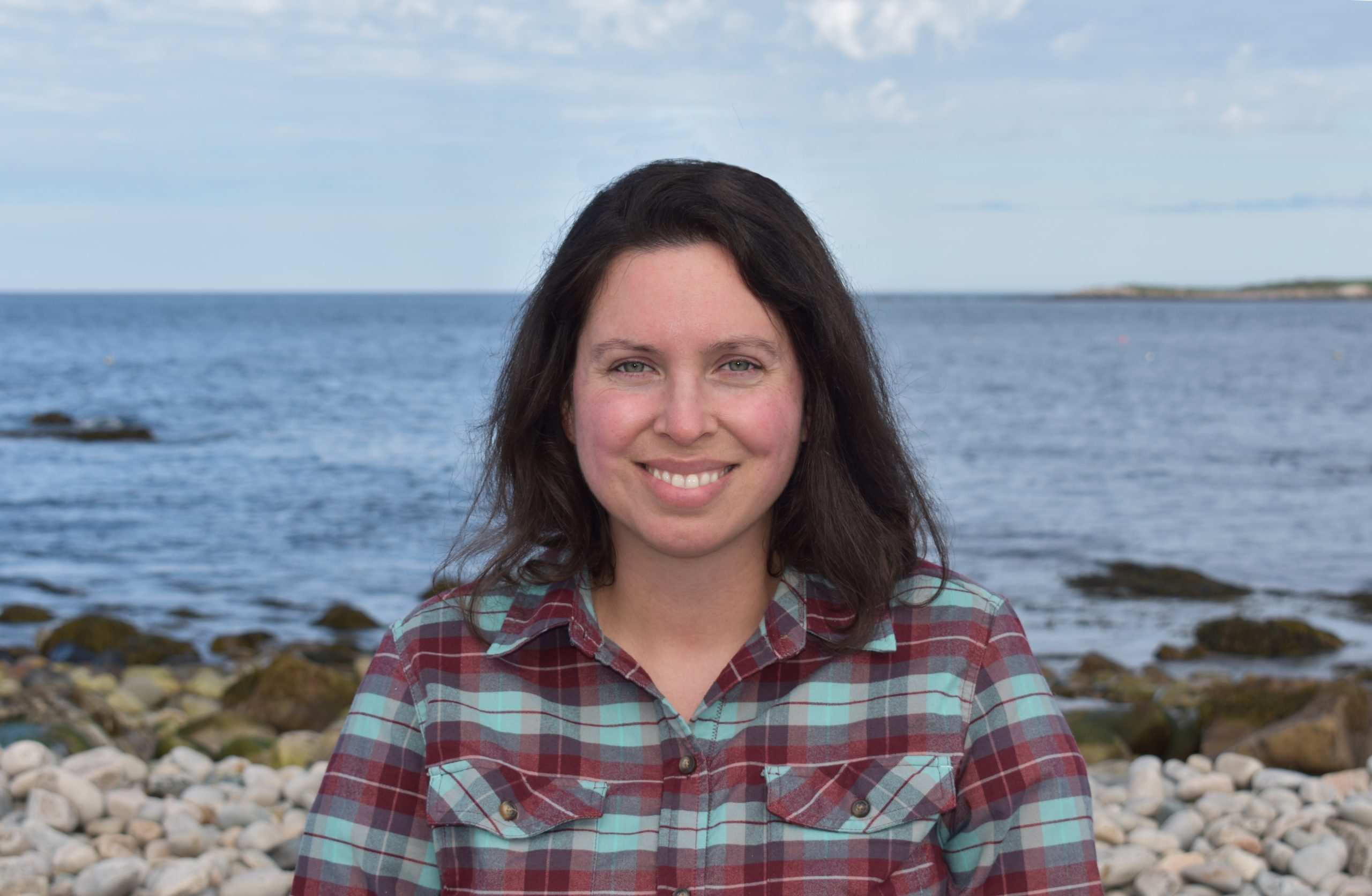 Katrina Zarrella Smith is a PhD Candidate in the Jordaan Fisheries and Aquatic Ecology Lab at University of Massachusetts Amherst. Her research focuses on characterizing the life history traits of marine organisms that improve our understanding of the population dynamics of valuable fisheries species. Katrina is currently collaborating with the Massachusetts Division of Marine Fisheries to examine local winter flounder populations and supports research projects at the Wells National Estuarine Research Reserve. Katrina has a degree in Human Ecology with an Aquatic Sciences focus from College of the Atlantic and has worked as a research assistant on studies of reproductive behavior of fishes at Friday Harbor Laboratories, Mount Desert Island Biological Laboratory, and the New England Aquarium. She also focuses on professional and academic retention issues and developing structures of support in the work environment.
HONORABLE MENTION UNDERGRADUATE STUDENT: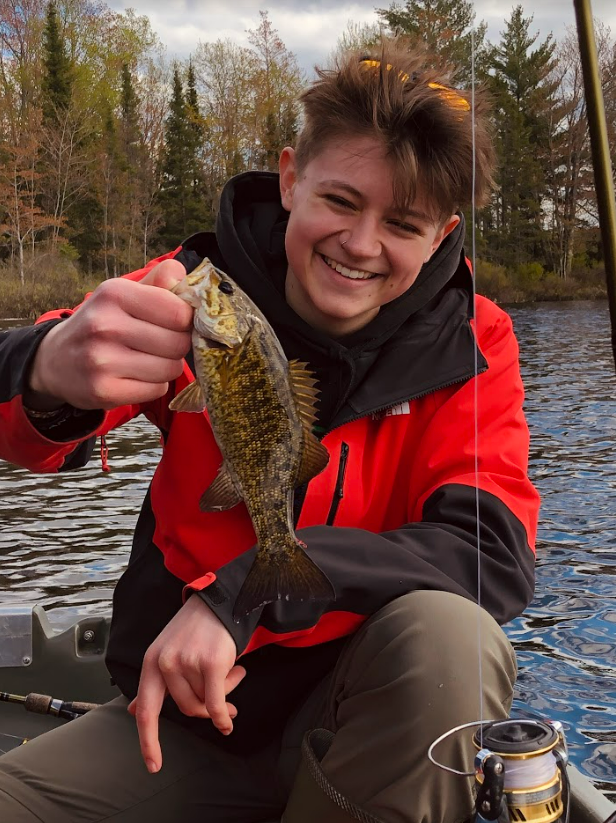 As a recent graduate of the University of Minnesota Duluth, I have been studying the movement ecology and physiology of juvenile Silver Carp. My research focuses on the swimming performance of juvenile Carp and the effects that temperature has on their physiological capabilities. This summer I've been working as a field technician for the Jones lab focusing on fisheries ecology research. The projects I work on include several whole lake experiments that are examining the role of habitat and angler influences on Largemouth Bass populations in Northern Wisconsin lakes. I am most interested in fisheries research, aquatic ecology, fish physiology, and ecological management practices for the conservation of healthy watersheds. My dream job is to do research on large watersheds and/or oceans and devise conservation methods using ecological management and restoration techniques to maintain the integrity of these incredibly complex and wonderful ecosystems.
---
We are pleased to announce our 2021 EOS Meeting Travel Awardees. Congratulations!!
*~*
Hadley I. A. Boehm (She/Her/Hers)
I am a PhD student in the Missouri Cooperative Fish and Wildlife Research Unit at the University of Missouri–Columbia. For my dissertation I am working on a collaborative project with the Missouri Department of Conservation to evaluate the Striped Bass fishery in Bull Shoals Reservoir. I hold a M.S. in Natural Resources from the University of Wisconsin–Stevens Point where I did a cooperative project with Wisconsin DNR, focused on identifying Walleye recruitment bottlenecks in the northern part of the state. Between my graduate degrees I was a fisheries specialist at the Minnesota Department of Natural Resources, then a senior fisheries biologist for the Wisconsin Department of Natural Resources. I realized through my involvement coordinating student activities at annual WIAFS chapter meetings and at the 2018 Midwest Fish and Wildlife Conference, that I really enjoy working with students and young professionals. It made sense to combine my interest in addressing applied questions with teaching for a career, so I returned to graduate school. My ultimate goal is to work at an institution where I can teach and pursue a combination of applied fisheries work with students.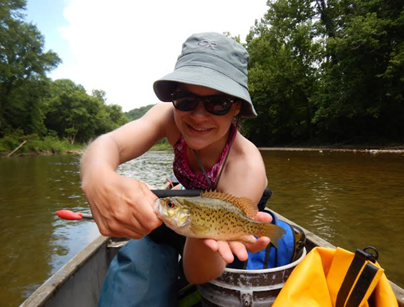 Samara Nehemiah (She/Her/Hers)
Samara Nehemiah is a current Ph.D. student at the Chesapeake Biological Laboratory at the University of Maryland Center for Environmental Science studying Quantitative Fisheries. Her current research focuses on developing statistical models to estimate population abundance of economically and ecologically important fishes in the Chesapeake Bay. Samara completed her M.S. in Fisheries and Aquatic Sciences from the University of Florida in 2020 and completed her B.S. in Environmental Science and Policy from the University of Maryland in 2015. Samara currently serves as Vice President of the Chesapeake Biological Laboratory's chapter of the American Association of University Women and serves as Vice President of the University of Maryland American Fisheries Society student subunit.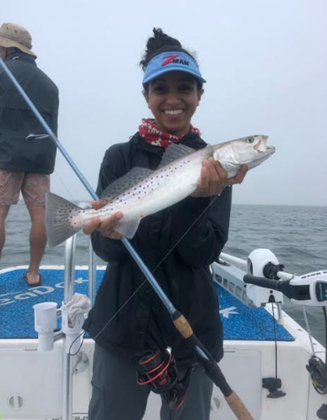 Elsa Gutierrez (She/Her/Hers)
I am a master's student at Louisiana State University in the Department of Oceanography and Coastal Science. My focus is studying the movement ecology and life history of highly migratory fish species in the Gulf of Mexico. I was born in Mexico and was first introduced to marine biology as a sophomore in high school. I attended Texas A&M University – Galveston for my undergraduate degree, where I had the chance to meet high school students interested in marine biology. Since then, I have been an active member of my community speaking science to younger audiences and minorities not represented in the science field. As a Mexican American marine biologist, I strive to increase representation of minorities in science fields and show them see the possibility of all the careers and options they have.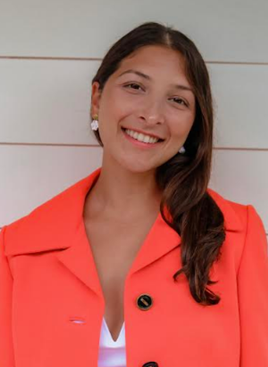 Christina Linkem (She/Her/Hers)
I am a second year MS student at Oregon State University in Dr. Ivan Arismendi's Lab. My thesis is focused on seasonal movement and habitat use of Coastal Cutthroat Trout in headwater streams in the coastal range of Oregon. Prior to becoming a graduate student at OSU, I worked for the USFS as a seasonal field technician for the Aquatic and Riparian Effectiveness Monitoring Program (AREMP). My AFS involvement includes managing the Oregon Chapter's Instagram page (@oregon_afs), acting as one of the Volunteer Coordinators for the 2021 Oregon AFS annual meeting, and co-authoring two Fisheries articles that highlighted contributions of underrepresented groups in the field of fisheries. I enjoy any work in biological research that involves a healthy mix of field work, data analysis, presenting and writing. My hobbies include canoeing, peak hiking, camping, surfing, and travelling.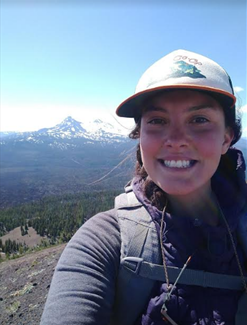 Marsella Munoz (She/Her/Hers)
Undergraduate student at Florida State University majoring in biology. She was one of the AFS Hutton Scholars this past summer. Her goals are to engage in a new field of science, develop a deeper sense of her identity, and create interpersonal skills that will allow her to delve more deeply into fisheries science.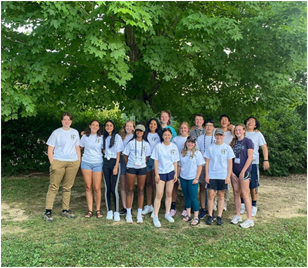 ---
We are pleased to announce our 2020 EOS Virtual Meeting Travel Awardees. Congratulations!
*~*
Kristina Pechacek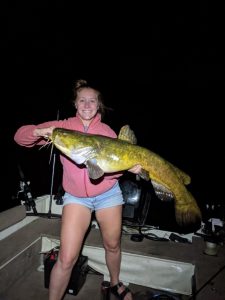 Anna Perruzza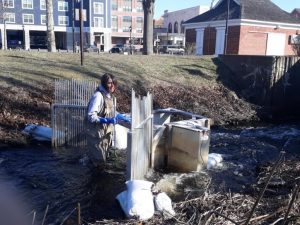 Caroline Troy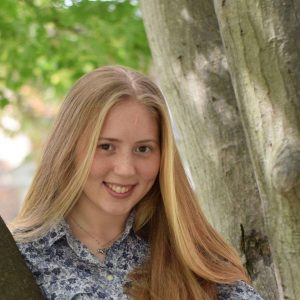 Kaylyn Zipp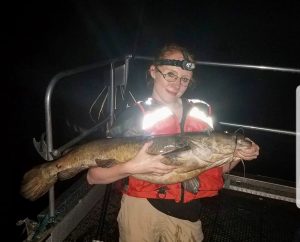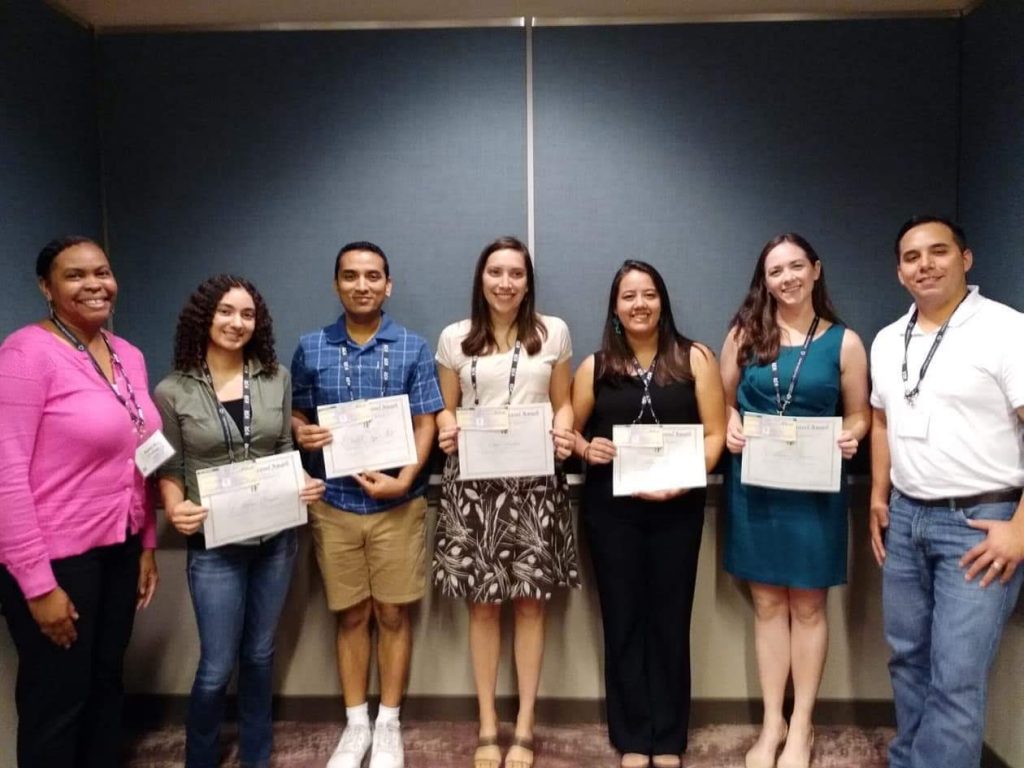 2018 EOS Travel Award Recipients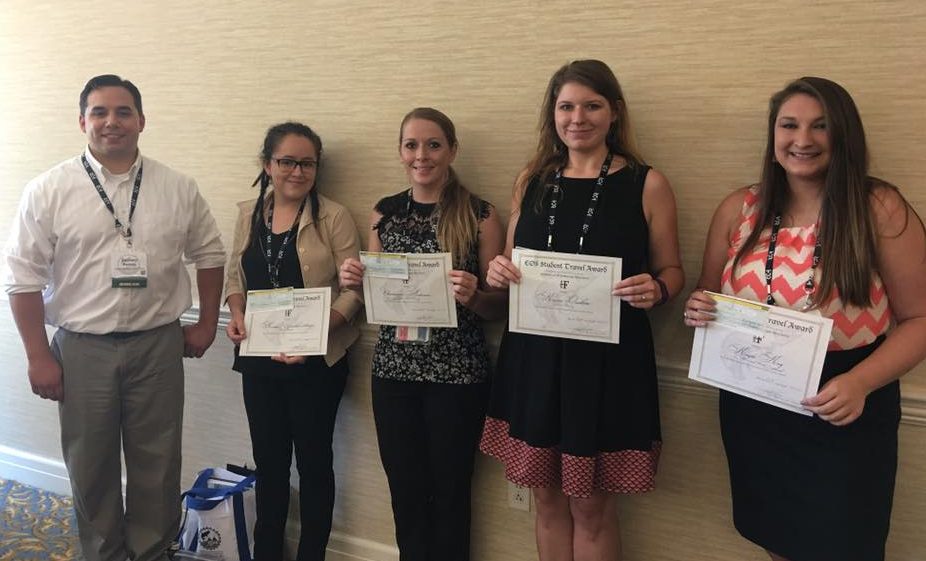 2017 EOS Travel Award Recipients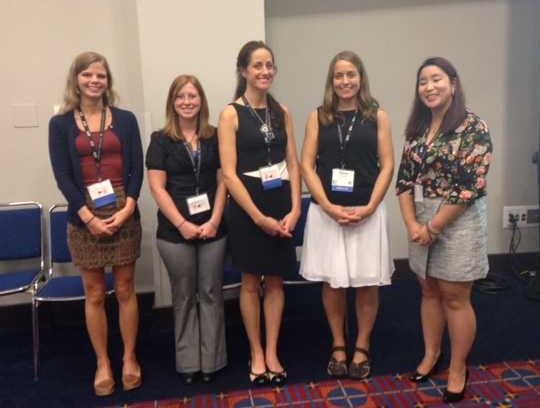 2015 EOS Travel Award Recipients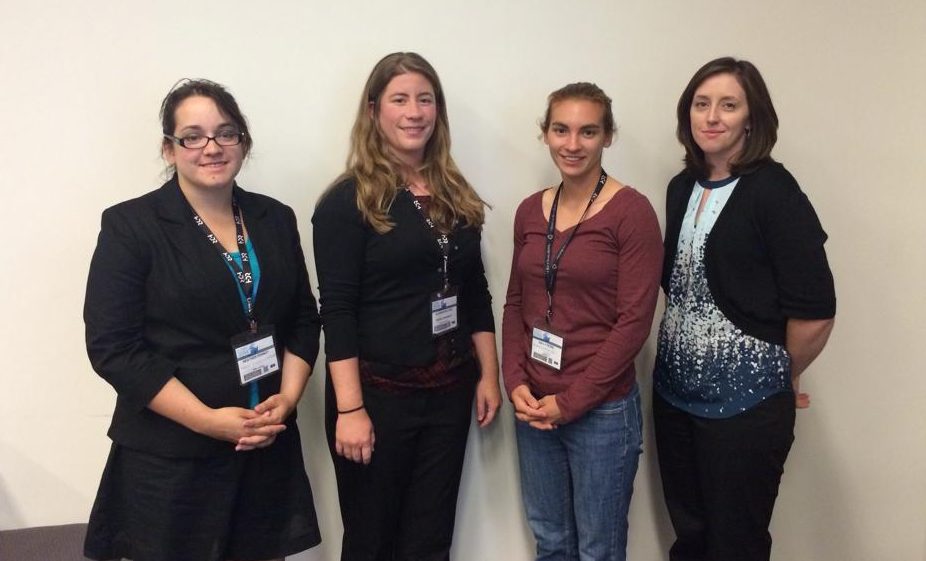 2014 EOS Travel Award Recipients