Fisheries Magazine – March 2015
Want to Receive Fisheries Magazine Every Month for Free?!Become a member of the Society!
Your Benefits? Plenty!
Society Membership means you'll:
• receive Fisheries magazine each month
• enjoy special savings on subscriptions to AFS published books
• subscribe at member rates to the four preeminent, peer-reviewed AFS journals
• enjoy special savings on meeting registration
• join fisheries-related sections that cover your academic and professional interests
• apply for official certification as a Fisheries Professional, a process available only from AFS
• receive help when you publish with AFS

The Society needs your support. Won't you join us today? Click to learn more!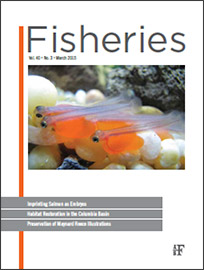 President's Commentary
• AFS Membership: How Much Should it Cost?
Policy
• Our Renewed Effort to Make the Most of Science
Journal Summaries
• AFS Journals Support Sustainable Aquaculture
• Predicting Brook Trout occurrence in stream reaches throughout their native range in the eastern United States
Essays
• The Last Stand of the Barrons Topminnow
•Brushes with Greatness: Preserving Original Maynard Reece Fish Art
Q&A
• Black Bass Diversity: Multidisciplinary Science for Conservation
Peers
• English Abstract: Imprinting of Hatchery-Reared Salmon to Targeted Spawning Locations
• Spanish Abstract: Impronta en salmones cultivados para incidencia en sitios de desove
• English Abstract: A Comprehensive Approach for Habitat Restoration in the Columbia Basin
• Spanish Abstract: Un enfoque integral para restauración de hábitats en la cuenca de Columbia
Meet Your Staff
• Beverly Pike, New AFS Director of Student and Professional Development
Society Business
• Calling All Reviewers
… and more!
To access the February 2015 Fisheries magazine :