The Alphabet Social
Beginning in 2021, the AFS Equal Opportunities Section (EOS) has hosted an in-person and virtual social at the AFS Parent/International meeting for members of the LGBTQIA2S+ and BIPOC community and allies. This social has been rebranded to "The Alphabet Social", in recognition of the many identities who are underrepresented within fisheries. 
2022 Alphabet Social in Spokane, WA
Find your people on the first night of the conference! This social centers and celebrates LGBTQIA2S+ and BIPOC identities.
This year's social also features a raffle that directly benefits EOS programming (items like a 5-weight, 9' fly-fishing outfit, fish prints, gar scale earrings, and more!). Receive 1 free raffle ticket for attending, and use cash/check/Venmo to purchase more!
Convention Center 402C
Refreshments provided
6:00 – 6:30PM BIPOC Social
6:30 – 7:00PM LGBTQIA2S+ Social
7:00 – 7:30PM Allies Welcome
Sponsored by: Equal Opportunities Section, American Fisheries Society, Education Section, Fish Health Section, Fisheries Management Section
Interested in volunteering to help organize The Alphabet Social? Interested in sponsoring The Alphabet Social? Email us: [email protected]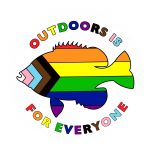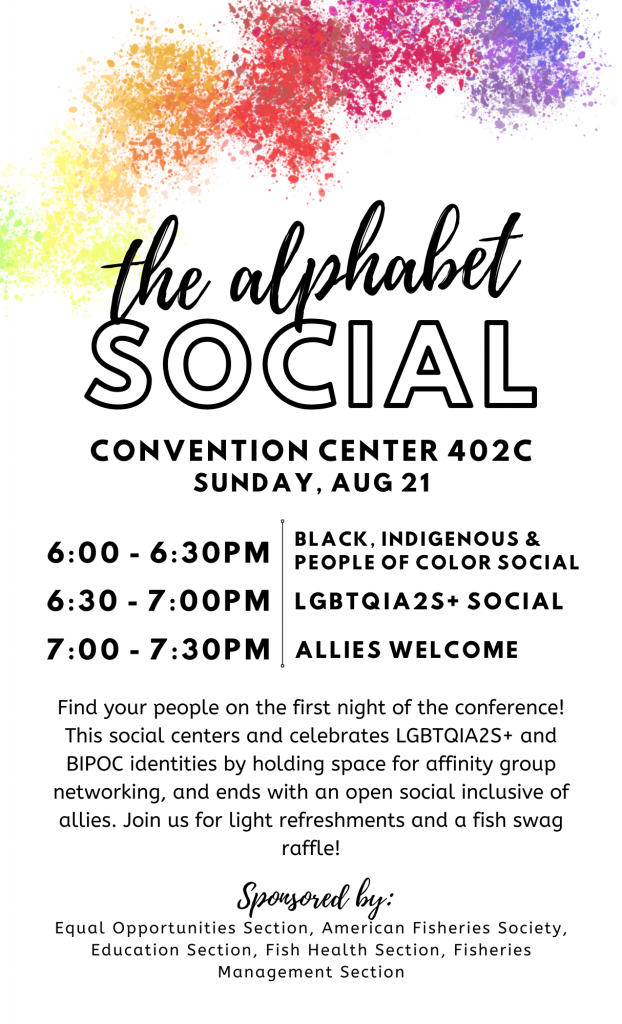 2021 LGBTQ+/BIPOC Social in Baltimore, MD
At the Baltimore Annual Meeting, we hosted our first virtual and in-person LGBTQIA+ and BIPOC social, attended by over 60 people. 500 "Outdoors is for Everyone" pins, created by Cassidy Miles, were widely distributed and worn by AFS Leadership and members throughout the conference.