The Alphabet Social
Beginning in 2021, the AFS Equal Opportunities Section (EOS) has hosted an in-person and virtual social at the AFS Parent/International meeting for members of the LGBTQIA2S+ and BIPOC community and allies. This social has been rebranded to "The Alphabet Social", in recognition of the many identities who are underrepresented within fisheries. 
2022 Alphabet Social in Spokane, WA
Planning is underway for the 2022 Alphabet Social in Spokane, Washington! The Alphabet Social will likely occur during the first grand social, and have an in-person and virtual option for joining. The in-person social will likely include refreshments, "Outdoors is for Everyone" swag, and lots of joy!
Interested in volunteering to help organize The Alphabet Social? Interested in sponsoring The Alphabet Social? Email us: [email protected]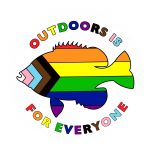 2021 LGBTQ+/BIPOC Social in Baltimore, MD
At the Baltimore Annual Meeting, we hosted our first virtual and in-person LGBTQIA+ and BIPOC social, attended by over 60 people. 500 "Outdoors is for Everyone" pins, created by Cassidy Miles, were widely distributed and worn by AFS Leadership and members throughout the conference.