Events & Initiatives
The Equal Opportunities Section helps organize a number of events and initiatives on an annual or one-time basis. We invite our section members, AFS members, and the broader fisheries community to engage with us by participating in our activities, or volunteering to help organize them!
The Equal Opportunities Section is supporting one symposium and a discussion focused on how to provide more/better support to SECPs in AFS at the Student and Early Career Professionals Subsection business meeting at the 153rd Annual Meeting to be held in Grand Rapids, MI from August 20-24, 2023. Please see the information below for more details:
Becoming Relevant to a Changing User-base: Strategies to Manage Future Fisheries
Full abstract and description can be downloaded here
Navigating the Stream: Supporting Students and Early Career Professionals in AFS
Discussion will take place towards the end of the SECP business meeting on Tues. Aug 22 from 3-4pm
DEIJA Guide at Grand Rapids 2023
There are tons of diversity, equity, inclusion, and advocacy (DEIJA)-related events to attend at this year's 153rd Annual AFS meeting. Here's a quick guide on what events are coming up in Grand Rapids!
Download our DEIJA Guide here: EOS DEIJA Guide 2023
---
Sunday, August 20
Workshop: Monsters of Environmental Justice Fundraising Workshop
Workshop: Scientific Writing in English for Non-Native Speakers
Monday, August 21
Symposium: Becoming Relevant to a Changing User-Base: Strategies to Manage Future Fisheries
Symposium: We Are Not Adjacent to Nature We Are Part of It
7:00 – 7:30PM 〉 Black Affinity Social, Latinx Affinity Social, & LGBTQIA2S+ Affinity Social
7:30 – 8:00PM 〉 Asian/Pacific Islander Affinity Social, Women Affinity Social, & Indigenous Affinity Social
7:00 – 9:00 PM 〉 The Alphabet Social
Wednesday, August 23
Symposium: Ready, Set, Hire: Building a Sustainable & Diverse Workforce Through Training & Pathways Programs to Increase Fish Careers
Thursday, August 24
Symposium: Incorporating DEIJA Activities: Where to Begin?
---
What Else?
Indigenous Outreach Event & Travel Award – Monday, August 21 from 7-8am (Grand Gallery Overlook E)
Gender Neutral Restrooms – DeVos Place, near Hall A & near Steelcase Ballroom; Amway Grand, behind hotel front desk to the right
Child Care Options – Register before the conference here
Nursing Mothers' Rooms – DeVos Place, 1st (Street level) & 3rd floors (Overlook level) on the west side of the facility
Quiet Room – Amway Grand: Concourse Level 2nd Floor, Emerald Room A
EOS Virtual Auction – Keep your eyes peeled for the EOS Virtual Auction, complete with many great items for folks to bid on! The auction will open on Sunday Aug. 20th and close Wednesday Aug. 23rd at 10am. Proceeds will fund the EOS Travel Awards and EOS events & initiatives.
Outdoors is for Everyone – Want to get some swag ahead of the conference? Visit here. All profits donated to the AFS Hutton Program. You can also donate here.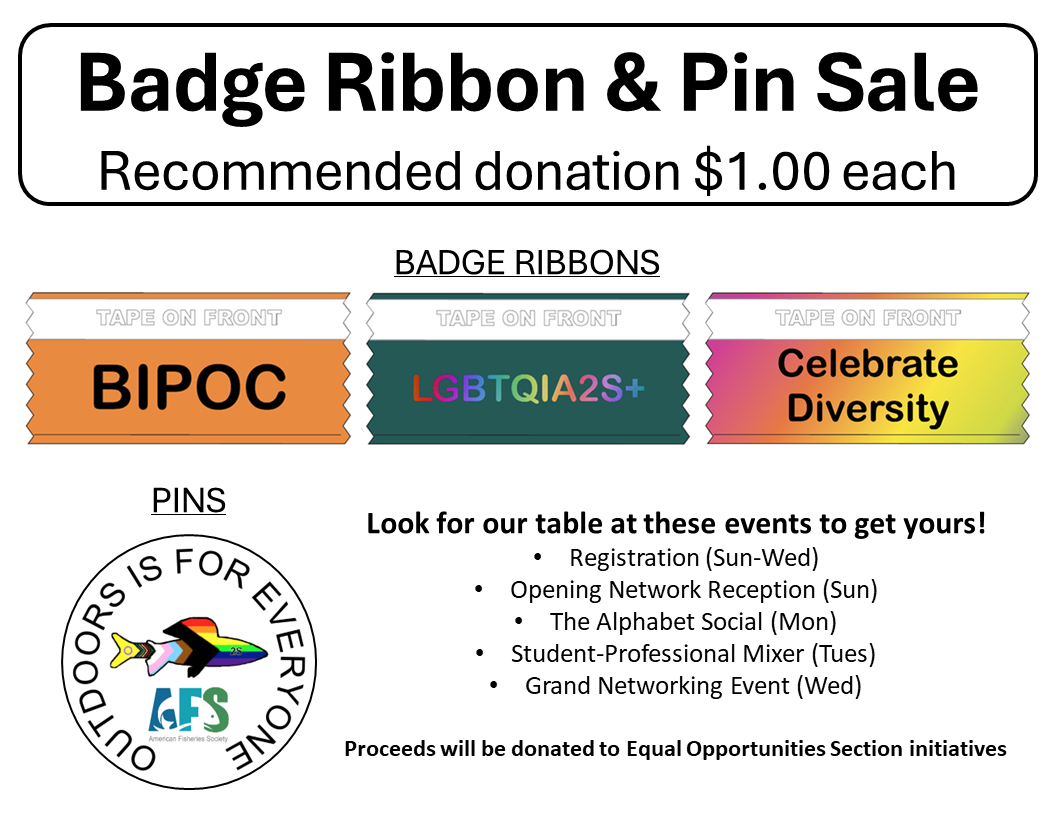 ---
Thank you to all of the section and chapter donors for supporting our travel awards, socials, and other EOS events this year! 
Donors: American Fisheries Society, Grand Rapids DEI Planning Team, Western Division, Northeastern Division, Education Section, Fisheries Administration Section, Fish Habitat Section, Southern New England Chapter, Iowa Chapter, Michigan Chapter, Ohio Chapter, Oregon Chapter, Wisconsin Chapter, and Missouri Chapter